PROGRAM: DataPlus for Sage 100 - Messages or Errors
DataPlus Push Configuration
Notice
Sage 100 Configuration Notice


Sage connection failed. There was no end point listening at http://w764-s100erp:8000/ Sage100Bridge/proxy.svc that could accept the message. This is often caused by an incorrect address or SOAP action. See InnerExcepton, if present, for more details.


Resolution

Ensure that the service "Hogan Data Sage100 Bridge" is started
Ensure that the service "Hogan Data Sage100 Bridge" has rights to run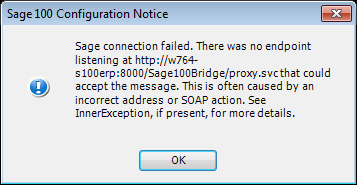 Notice
Sage 100 Configuration Notice


Sage connection failed. The hostname could not be parsed.


Resolution

Ensure that the host server name is correct

Notice
Action

Configure Sage 100 Push
Test Connection

Sage 100 Configuration Notice


Sage connection failed. Exception has been thrown by the target of an invocation.


Resolution

Ensure that the service "Hogan Data Sage100 Bridge" has rights to run

Test service using local
Test service using local administrator
Test service using domain administrator

After testing the bridge, "Test Connection" to Sage.
Depending on your network and permissions, the test can pass with in all 3 cases or just 1.
In most cases "Local" should work.
In some cases domain administrator must be used.
Error
Push to Sage 100 Error


The following error has occured: Cannot open database "dpS100_MFG" requested by the login. The login failed. Login failed for user 'HOGANDATA\administrator'.


Resolution

Database dpS100_MFG has not been configured for integration with DataPlus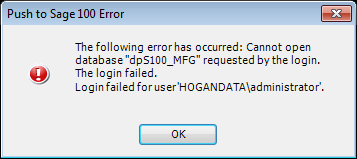 Note: "dpS100_MFG" is sample data. Your company id will replace "MFG".
Notice
Sage 100 Configuration Notice


Sage connection failed. Invalid Sage 100 Company Code


Resolution 1

Company Code is incorrect - validate code from your Sage 100 application and re-enter

Resolution 2

"Allow External Access" may not be enabled in Sage 100 "Company Maintenance" Preferences.

Error
Sage 100 Configuration Error


The follow error has occured: Value cannot be null. Parameter name: source


Steps

Configure Sage 100 Push

Reason


Server Settings/Server Name is incorrect


Resolution

Open Inbound port for SQL on server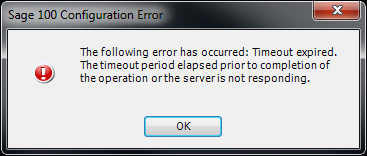 Error
Sage 100 Configuration Error


The follow error has occured: Value cannot be null. Parameter name: source


Steps

Configure Sage 100 Push

Save

Reason

User/Domain User - UAC Level 4
User/Domain User - UAC Level 3 (Administrator = 2)
User/Domain User - UAC Level 2 (When Admin = 2 Standard = 3)
User/Domain User - UAC Level 2 (When Admin = 1 Standard = no access)

Resolution

Open Inbound port for SQL on server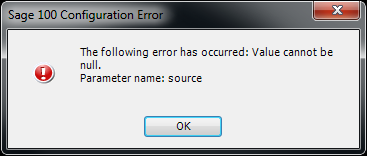 Error
Sage 100 Configuration Error


The follow error has occured: Value cannot be null. Parameter name: source


Steps

Configure Sage 100 Push

Reason


Server Settings/Server Name is incorrect


Resolution

Open Inbound port for SQL on server

DataPlus Push Transactions
Error
Push to Sage 100 Error


The following error has occurred: Failed pushing Sales Order, Error #41: Invalid integer encountered (range error or non-integer) Error #41: Invalid integer encountered (range error or non-interger)


Resolution

Customer No, Contact No, eCustomerID, eContactID fields in Act are populated.
When pushing to Sage 100 these fields indicate Customer exists
If customer does not exist in Sage 100 an error will occur
If you want to push the contact to "create" it in Sage, remove the data in eCustomerID and/or eContactID field in Act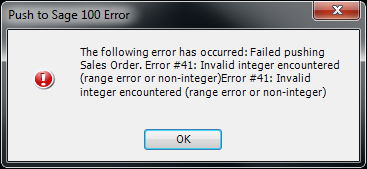 Error
Push to Sage 100 Error


The following error has occurred: Failed pushing Sales Order. There was no endpoint listening at http://w74-s100erp:8000/ Sage100Bridge/ proxy.svc that could accept the message. This is often caused by an incorrect address or SOAP action. See InnerException...


Resolution

Hogan Data S100 ERP Bridge may not started
Start or restart the service and try again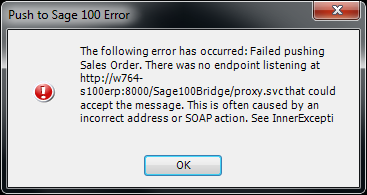 Error
Push to Sage 100 Error


The following error has occurred: Failed pushing Sales Order. Error saving information for sagefield "ItemCodeDesc"


Resolution

Item Type is not allowed to push to Sage transaction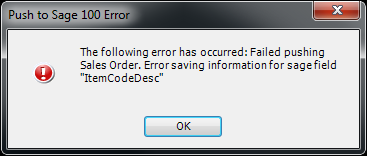 Error
Push to Sage 100 Error


The following error has occurred: Failed pushing Sales Order. Exception has been thrown by the target of an invocation.


Reason

Transaction permission fails due to proper permissions using the "Hogan Data S100 ERP Bridge"

Resolution

Change service permission to local or domain administrator account
Error
Push to Sage 100 Error


The following error has occurred: Failed pushing Sales Order.


Reason

Under investigation

Resolution

Under investigation

©1995 - 2019 HOGAN DATA | All rights reserved